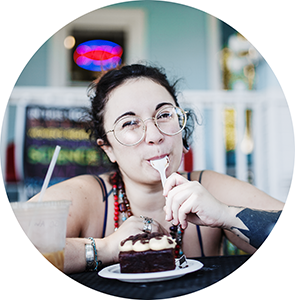 PHOTOGRAPHER/ILLUSTRATOR/GLITTER ADDICT
Hi, it's me, Flavie, your portrait photographer based in Austin.
I lived in Paris, France most of my life before landing in America. After a year in Los Angeles, I fell in love with my sweet Austin, Texas. I'm a proud vegan dog mom and I'm obsessed with travels.
Flowers are everywhere in my art and I love the challenge of highlighting people personalities in pictures. Meeting my clients, discovering who they are, what makes them so unique might be my favorite part in photography.
Self Taught, I had the chance to grow up with a photography passionate dad who transmitted me this deep love for art. My experience through the years made me be sure about one thing: I can't live a day without creating.
I create tattoo designs, offer portrait sessions, illustrate your book's illustration, create Youtube content to share tips and thoughts with my precious community.
Please, contact me if you have any question.
hello@lavieeibel.com